PATS TIE THE KNOT IN BAREFOOT CEREMONY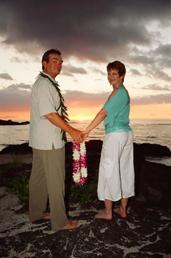 BIG ISLAND, HAWAII (AP) – With the sea turtles as their witnesses, Patrick Staley and Patricia Campbell got married at sunset on the beach, in their beloved Hawai'i on Thursday, June 30. They traded leis, rings, and heartfelt vows. Kahu Dean Kauka officiated. The ceremony was followed by a scrumptious dinner at Bubba Gump's Shrimp Company. Mr. & Mrs. Staley spent two weeks in Hawaii on their honeymoon.
Fashion Commentary
The Bride went for the castaway look complete with white cotton gaucho pants and a silk turqoise blouse the color of the surrounding sea. The thing that made the blouse decision easy was a label that read "Till The End." She wore a lei of puple and white orchids. The groom wore shades of silk taupe and a ti leaf lei.
Little Black Dog Figures
Big in the Story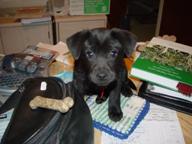 After the 2003 break-up, Patty was a bit reluctant to take up where they left off. Patrick got a pet (pictured above) for companionship. Little did Patty know that Baby Stella would steal her heart. I guess you could say that puppy love turned into people love. You might even say that Stella was the catalyst in the reunification process.
A VISIT TO THE VOLCANO
No trip to the Big Island is complete without a hike to Kilauea. Viewing was spectacular although somewhat limited because of the fear of a 25-acre lava "bench" collapsing. The goddess, Pele, always calls the shots.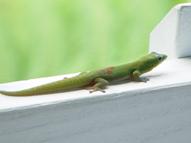 SCUBA DIVING CERTIFICATION SUCCESSFULLY COMPLETED
The day after the wedding, the 4-day SCUBA certification course began. Due to a bad case of chickenitis, Pat got off to a rough start, but in the end succeeded in getting her Open Water Diver's Certification. She swears that Joe Staley egged her on from above. Patrick got his re-certification and they enjoyed eight open water dives on this trip. Don't expect the water in San Diego to be 80 degrees!
******************
THE CIRCLE OF LIFE
On February 10 Justine Tieu Staley entered the world. She's the sweet and beautiful daughter of Michael & Nghi.
On June 9 Joseph Francis Staley, great-grandfather of Justine, left this world after a long and exciting life which included a career as an underwater demolition expert (Navy Frogman) and a rodeo cowboy.
The happy couple extend "Aloha" (Love) to all their family & friends!